Friendship Lamps Setup Guide
This guide will instruct you how to connect your Friendship Lamp on your WiFi network. For more information on the product features and specs visit the Friendship Lamp Product Page
We've recently launched our new Bluetooth Version of the Friendship Lamp.  If you have this version, then please watch our YouTube setup guide here.
Before you start: 
Make sure you are in range of your Wifi network. 
Create an account or login to the LuvLink® App 
Discover all the features of the 

LuvLink®

 App here
LuvLink® setup guide video
Colour Codes
Dim Blue

I am just turning on and connecting

Dim Red

I am unable to connect to WiFi and I would like to be set up

Dim Purple

I am downloading and installing an update, just wait 'till I am swirling green.
Dim Orange

Connected to wifi and not to the internet

Swirling Green

I am connected and ready to go!

Dim Yellow

Awaiting approval from your group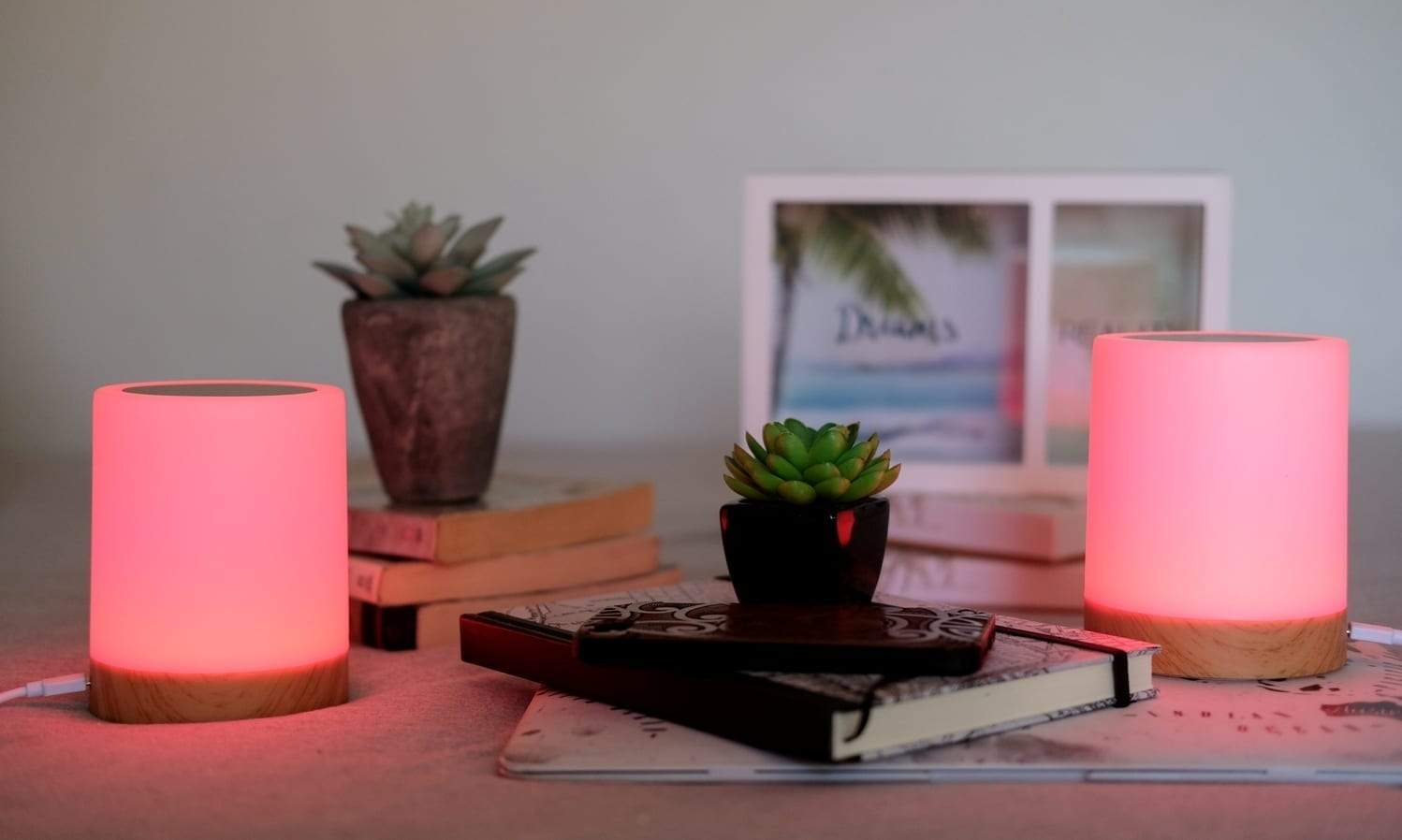 Step 1: Turn it on
Plug the included USB cable to a USB charger or laptop. The Friendship Lamp will turn blue, and then after a few seconds it will turn dim red.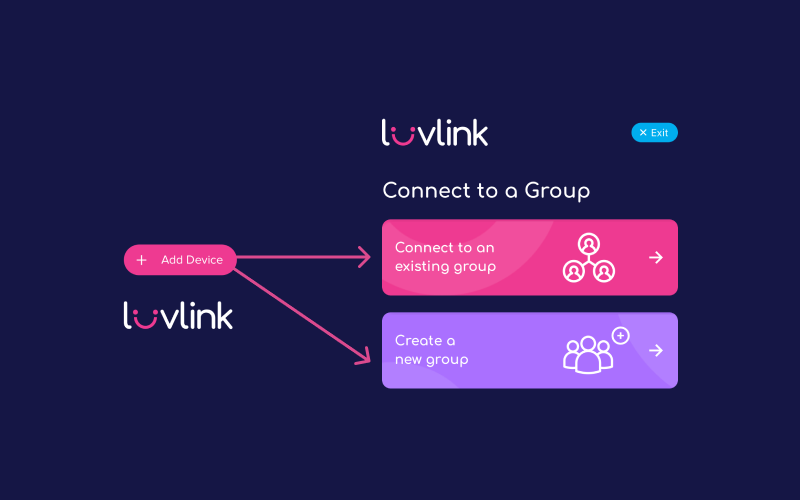 Step 2: Select "Add device"
Select the "Add device" button on the Luvlink™ App, you will then need to connect to a group.
If you are connecting to an existing group, select "Connect to an existing group", if you are setting up a new group, then select "Create a new group".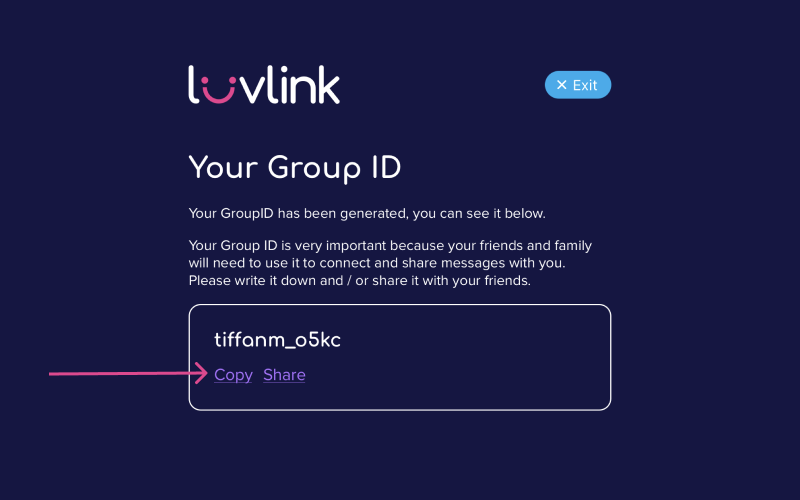 Step 3: Group ID
Be sure to copy your Group ID using the copy function. Select share to send your Group ID to the people you are connecting Friendship Lamps with.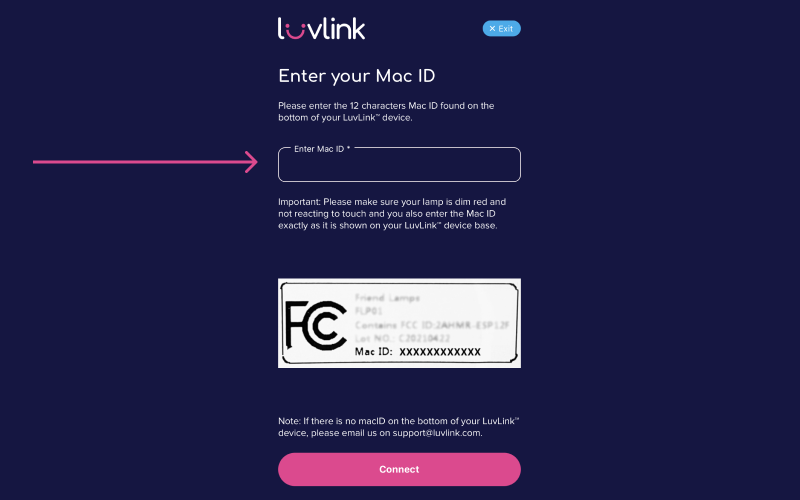 Step 4: Select device or enter your Mac ID
Make sure your lamp is in a dim red state (note: if your lamp is not dim red, simply tap down on the top of the lamp until the lamp goes dim red).
Select the lamp device on Android or if you are using the IOS app then enter your MAC ID. This ID can be found at the base of your lamp. Please enter the 12 characters and press connect. 
Note: You will need to press "allow" to proceed to the WiFi connection page.
Step 5: Connecting to WiFi
Select your WiFi Network and enter your WiFi password and press save. 
Be patient whilst your device goes through the following steps required to connect and finish setting up your device. There will be 3 ticks if you have successfully set up your device. Select "go to the dashboard" to start enjoying your Friendship Lamp! 
If you are joining someone else's group, then you will get 2 ticks and will need to wait until the admin approves you to join their group!
If you do not have 3 ticks, your device has failed to connect. Review the troubleshooting steps below this to successfully connect your lamp.
How to use your Friendship Lamp?
Have your lamps setup? Great, take a look at the below questions in order to use your lamp! We hope you love staying connected with friends & family using LuvLink™.
How do I send a color?

To send a color simply tap your lamp and it will send your color to all the other lamps on your group.
How do I turn my lamp off?

To turn your lamp off simply hold the top touch pad down for 2 seconds and release and your lamp should turn off.

If your friend taps their lamp, then your lamp will light up once more. If you wish to keep the lamp off for set times, then you can manage this by using the sleep timer in the app.
How do I change colors on my lamp?

To change a color, simply hold your finger on the touch button and the favorite color options will cycle through. When you are happy with the chosen color, then simply tap again and the color will be sent to your group.

Don't forget that you can choose from unlimited color options on the app.
How do I reset my lamp?

You can easily reset your lamp in the LuvLink app, however if you wish to do this manually then please hold down the touch pad for 60 seconds and the lamp will scroll through the colors and then eventually go dim red.
Can I link my Friendship Lamp to my Infinity Lamp?

Absolutely! You can mix and match your Friendship Lamp with our Infinity Lamp range.
Problems during setup?
Visit our help center, or contact a support agent here or jump on live chat. We will respond to you as soon as we can. 
#luvlink #apartbutneveralone #friendshiplamp
Share the love